Blackpool promenade dog attack: Woman needed surgery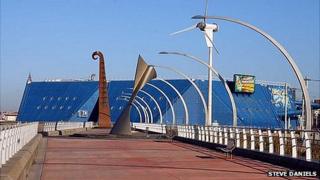 A 54-year-old woman needed two operations, including a skin graft, after an angler's dog mauled her leg on Blackpool promenade.
Lesley Wilson's friend Shobna Akhtar, 27, was also bitten on the arm trying to intervene.
The dog's owner put it back on the lead before running away.
Detectives have just released details about the attack which took place at about 23:00 BST on 8 July near to the sea wall in the south of the resort.
"I have had two operations and I am still in hospital - not walking yet," said Ms Wilson, who is from Preston. Her friend Ms Akhtar is from Blackburn.
"The dog was not on its lead and went for us for no reason," she added.
"It mauled my leg and nipped my friend's arm."
'Scarred for life'
Lancashire Police said the women, who are both deaf, were walking along the promenade just past The Sandcastle water park when the dog, which is thought to have belonged to two men fishing nearby, ran towards them and attacked one of the women.
The dog's owner ran off towards The Pleasure Beach.
The alarm was raised by another man, who was fishing nearby.
Ms Wilson received emergency treatment for her mauled leg at the Royal Preston Hospital.
Det Insp Kev Simmons said: "Both ladies will be scarred for life as a result of the injuries they received and we are determined to trace the people responsible for this animal."
The dog is described by police as a young Staffordshire bull terrier or pit bull type dog, very dark brown or black with a white stripe on its head leading from its nose onto the top of its head.