Freckleton fire: Dyson Allen used 'to start fires'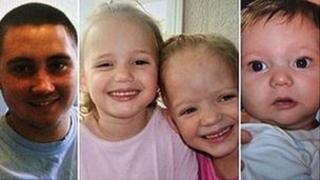 A teenager accused of killing four siblings in a house blaze told a jury he started fires when he was younger.
Dyson Allen, 19, denies deliberately or accidentally starting a fire in a bedroom wardrobe in a dormer bungalow in Freckleton, Lancashire.
Four-year-old twins Holly and Ella Smith and brothers, Jordan, two, and Reece, 19. died on 7 January 2012.
Preston Crown Court has heard Mr Allen was the only other person upstairs when the fire broke out.
Giving evidence, Mr Allen tearfully denied four counts of murder and four alternative counts of manslaughter.
'Drunk and stoned'
He accepted he had been involved with starting a fire in a locker at his high school when he was 15 and that he had lit fires in overgrown fields with friends but it was not close to houses.
He said aerosol cans were used in the fields to ignite the flames on occasion to "increase the speed".
But he denied using a similar method at a house party in March 2011.
Mr Fish said: "It has been said that you lit the spray from a deodorant can at that party that night?"
"That is not true," Allen said.
David Fish QC, defending, asked Mr Allen: "Did you start that fire in the wardrobe at Lytham Road on 7 January last year?"
"No," the defendant replied.
"Either accidentally or deliberately?" continued his barrister.
"No," he said again.
Mr Fish then asked: "Did you intend that night any harm to Jordan?
Mr Allen again said: "No."
The defendant struggled to compose himself as he repeated the same answer in relation to Ella, Holly and Reece.
'Heavy cannabis use'
Mr Allen had had one previous conviction for common assault in September 2010 and two reprimands for theft and possession of cannabis resin, the court heard.
A birthday party was being held at the dormer bungalow for the children's mother, Michelle Smith, 37, on the night of the fatal fire.
Mr Allen, a family friend from the Freckleton area, was a regular visitor there and stayed overnight the evening before the blaze.
Witnesses have told the court that the defendant appeared "drunk and stoned" on the night of the fire.
Mr Allen told the jury that he had first started using cannabis when he was 16 but his use became "heavier" as he progressed to taking it on a weekly basis.
Reece Smith was overcome by fumes as he dashed upstairs to rescue his younger sisters and brother who were all in the same bedroom.
Post-mortem examinations concluded all four had died from carbon monoxide poisoning caused by smoke inhalation.