Stephen Kay jailed for post worker colleague bomb attack bid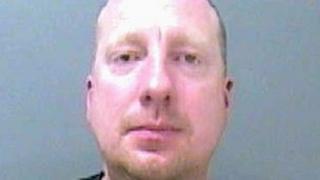 A man who tried to blow up a former colleague with a home-made bomb has been jailed for seven years.
Liverpool Crown Court heard Stephen Kay, 37, of Morecambe, took revenge on a former postal worker colleague after a bullying complaint was rejected.
The bomb was attached to the back door of Alexander Winter's home but did not ignite when his wife opened the door.
The 1999 bombing attempt only came to light when Kay became "careless" and started boasting about it in 2009.
Kay, of Mardale Avenue, had denied placing the explosive device with intent.
The jury heard Kay tried to bomb Mr Winter's home in Heysham in 1999, but that his grudge had lasted two years.
Weapons haul
Mr Winter, who worked with Kay at Morecambe sorting office, told police he found a device under his car outside his home in November 1997, which he said had left a burn mark.
Kay resigned from the Post Office after a disciplinary hearing about the redirection of mail in September 1997 by which time he was seeing a psychiatrist for thoughts about killing colleagues.
The attempted bombing was highlighted by the BBC's Crimewatch programme in May 1999 but police only reopened the case 10 years later when Kay told people what he had done,
He even contacted a journalist friend highlighting the 10th anniversary of the incident.
Judge Clement Goldstone QC, the Recorder of Liverpool. told Kay: "Not that you admitted sending the devices in as many words but you, who had enjoyed being the centre of attention and was sorry that it had ceased to be front-page news, wanted 'full and accurate reporting' to mark the 10th anniversary of the event."
When Kay was arrested in September 2010 police found an air rifle and two CS gas canisters, along with military memorabilia and replica weapons.