Blackpool's Abbeydale care home residents moved out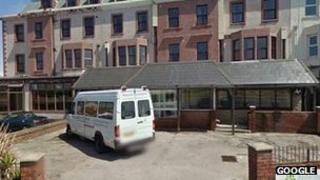 Residents are being moved out of a Blackpool care home over concerns it is not up to standard.
Residents at Abbeydale Care Home on New South Promenade are being moved to other care homes in the borough.
Blackpool Council and NHS Blackpool Clinical Commissioning Group said they had been supporting owner Ribble Valley Care to help improve the service.
Managing director Simon Crowther said problems raised in a Care Quality Commission report had been addressed.
He said: "We've accepted that in the past it's not been up to standard, but we have shown continual improvement."
However, a statement from Blackpool Council and NHS Blackpool Clinical Commissioning Group, stated: "A joint decision has been made to terminate our contracts with the Abbeydale Nursing Home
"This is not a decision that has been taken lightly. We have a specific duty of care to vulnerable people and this has been reached with the health and wellbeing of residents placed first and foremost."
Following an inspection in August, the CQC issued a formal warning to the care home saying it was failing to meet national standards relating to care and welfare and also the safeguarding of residents.
Of the 34 residents in the home, the 28 that are funded by the council or clinical commissioning group are being moved.
The home mainly supports older people and people with dementia.