Blackpool North Pier 'must earn' to see 150 more years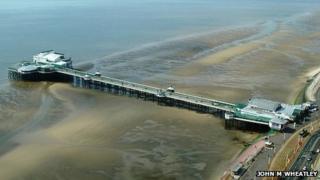 Blackpool's oldest pier - celebrating the 150th anniversary of its opening - has "got to earn money" if it is to survive, its owner said.
The Grade II listed North Pier, which opened on 21 May 1863, was purchased in 2011 by local family firm Sedgwick's.
Around 20,000 people attended the opening 150 years ago, but visitor numbers have been steadily declining.
Peter Sedgwick said he needed "to get it right and get the people on" to ensure the pier saw another 150 years.
The building, which predates the town's iconic tower by 31 years, stretches around 430m (1,410 ft) out from the shore.
It was designed by Eugenius Birch, a Victorian engineer who designed 14 piers after inventing a screw mechanism which holds the structures into the sea.
Mr Sedgwick, who proposed to his wife on North Pier and promised to buy it for her, said the pier had "fetched a lot of pleasure to a lot of people".
He said he and his family had made changes to the pier since taking over ownership, but there was "a lot more to do".
"It's going to be a long drawn out job to get it to where we want it to be," he said.
"People think you can wave a magic wand and everything will come overnight, but that's not the case - there's a lot of money involved and it's got to earn money.
"We've got to get the revenue in to spend on the pier and the main thing is we've got to get it right entertainment-wise to get the people on to spend money on the pier."
He added that despite the need for revenue, his firm had removed the charge for walking on the pier because he "didn't think it was right".
"The pier belongs to the people of Blackpool and to everyone else, so it wasn't right to charge," he said.
The town's other two piers, the Central and South piers, were opened in 1868 and 1893 respectively.