Woman's 250-mile mobility scooter ride for charity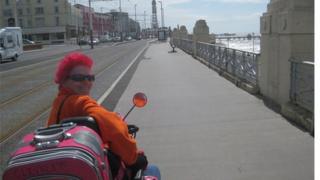 A woman from Lancashire has set off on a 250-mile (400km) mobility scooter ride for charity.
Tracey Vinyard-Thomason is riding her mobility scooter from her home in Thornton-Cleveleys to her father's home in Canary Wharf, London.
She is hoping to complete the trip in a maximum of eight days and make £1000 for six separate charities.
She said she is prepared for the weather, adding: "One of my charities, the RNLI, has lent me waterproofs."
'Making people laugh'
Mrs Vinyard-Thomason, who runs the Captain's Table bed and breakfast with her husband Mike, said she will ride her scooter for between 12 and 14 hours a day.
"I love a challenge and making people laugh.
"I'm going to stick to A roads and I have prepared the route for re-charging my scooter, plus I have two spare batteries with me."
It is not the first charity challenge the 50-year-old, who has been in remission from breast cancer for three years, has completed.
She said she raised £1000 doing a charity head-shave as well as running a marathon in a thong.
"I think this will be the easiest one," said Mrs Vinyard-Thomason.
Her husband and their dog Skipper accompanied her on her first leg of the trip, to Blackpool.
Her six designated charities are Blue Skies Hospital Fund which provides breast care at Blackpool Victoria, the RNLI, Support for the Elderly, the North West Air Ambulance, British Heart Foundation and the Spiritualist Church in Cleveleys.