Leeds and Liverpool canal arts project awarded £2m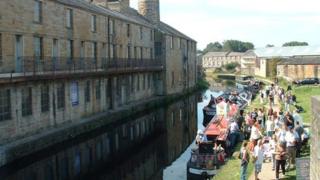 An arts project designed to attract visitors to the East Lancashire stretch of the Leeds and Liverpool canal has been awarded £2m by the Arts Council.
The 10-year plan is for the canal between Blackburn and Burnley.
Proposals include art installations, festivals and performances along the canal's towpaths.
Steven Broomhead, from the Canal and River Trust, said he hoped the scheme would bring "world-class art to the heart of Pennine Lancashire".
'Steeped in culture'
Mr Broomhead, chair of the Canal & River Trust's North West Waterway Partnership, said it was important to take care of the canal which was once at the heart of the Industrial Revolution.
He said: "Our canals are steeped in culture, art and history and they inspire people..."
"We hope this funding will bring world-class art to the heart of Pennine Lancashire and encourage people to take pride in the canals that form such an important part of the community, attracting visitors from across the country and beyond," he added.
The funding comes from the Arts Council's creative people and places programme, which is aimed at allowing communities and grass roots arts organisations to play a leading part in inspiring others to get involved with the arts.
North West regional director of the Arts Council England Jane Beardsworth said the plans for the project were "very exciting, with strong local connections and great international ambition".
The Canal and River Trust North West, Groundwork Pennine Lancashire Trust, Arts Partners in Pennine Lancashire and Barnfield Construction Limited are leading the project.