Endangered baby gibbon born at Blackpool Zoo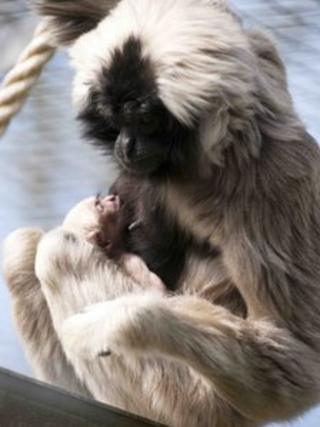 An endangered species of gibbon has had a baby at Blackpool Zoo.
The pleated gibbon weighed only 2 to 3lbs (about 1kg) when it was born on 11 April to mother Ivy and father Chamoa.
Staff at the zoo said they are not yet sure what sex the baby is, as they only remove animals from their homes in emergencies.
The youngster will remain on her mother's chest for about six months before it starts to explore its surroundings.
Charlotte Pennie, senior primate keeper at the zoo, said: "Pileated gibbons are very difficult to breed and we were absolutely delighted when she gave birth naturally to a very healthy baby.
"Ivy is doing a fantastic job of caring for the youngster.
"We have been unable to tell what sex the baby is as yet so it really is a case of the keepers keeping a close eye on them both during these next few months."
Pileated gibbons live in the wild in eastern Thailand, western Cambodia and southwest Laos.
They form monogamous breeding pairs and have a diet of fruits, leaves and small animals.