Burnley canal-plunge toddler in 'critical condition'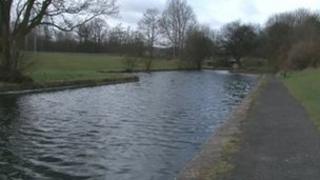 A toddler is in a critical condition in hospital after being found face down in a canal in Lancashire.
The two-year-old boy was walking with his mother from the Colne Road area of Burnley to a nearby address when he ran off along Pheasantford Green some time after 17:05 BST on Monday, police said.
He was found in the Leeds and Liverpool Canal shortly after.
Police said he was treated by paramedics and taken to Royal Blackburn Hospital by air ambulance.
He has since been transferred to Manchester Children's Hospital where he is said to be "very poorly".
Police are appealing to anyone that saw the boy, either alone or with his mother, to come forward.
He is described as Asian with short dark hair, wearing a grey T-shirt, black trousers and white shoes.
His mother is aged 25, of medium build with long dark hair, wearing dark coloured traditional Asian clothing and a head scarf.
Det Insp Marie Haworth said: "Monday was a nice sunny day and I am confident there would have been many people in the area travelling home from work, feeding the ducks or walking their dogs."