'Significant' rise in grass fire arson causes concern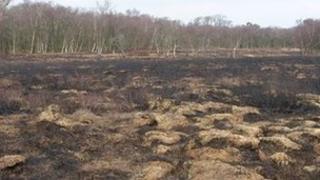 A "significant increase" in deliberately started fires is causing concern, Lancashire's Fire and Rescue Service has said.
In the Preston area the number of fires during the Easter fortnight increased from six in 2012 to 86 this year.
A combination of dry weather and children on school holidays is being blamed for the increase in fires.
Preston watch manager Tom Cookson said the fires were mainly grass fires, adding "arson is a very serious crime".
He said: "While youths might think it's only a bit of grass, the potential for fire-spread could lead to something much more serious.
"While we're out dealing with these types of incidents, we could be required for a much more serious incident and our delayed response could lead to catastrophic consequences."
In one fire in north Lancashire last weekend, a nature reserve was left badly damaged, with the Lancashire Wildlife Trust saying it could take "a number of years" for the area to recover.