Heysham Moss bog fire is 'blow to conservation'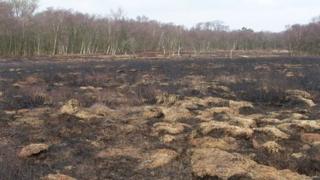 A fire at a nature reserve has been described as a "significant blow" to restoration work on the north Lancashire site.
Heysham Moss is a peat bog which is home to a wide range of plants and animals.
The Lancashire Wildlife Trust said it could take "a number of years" for the raised bog to recover from the fire.
Reuben Neville, from the trust, said the fire could threaten the survival of several rare species.
He said: "Critically some of the important bog mosses can be damaged or lost completely.
"It is these Sphagnum mosses as they are known, that are vital for a healthy and actively growing bog.
"With an ability to hold and absorb water they are crucial in regulating the flow of rainfall into the lower layers of peat, keeping the surface layers damp and eventually building up to form new peat.
"Fire can also change the surface of the peat itself reducing its water-holding capacity as well as leaving it susceptible to erosion and degradation."
Heysham Moss supports a number of bog plants including round leaved sundew, bog myrtle, bog rosemary, bog asphodel and the locally-rare white beaked sedge.
The fire happened over the weekend and was discovered by staff on Monday.
Much of the site is designated as a Site of Special Scientific Interest and was purchased by the Lancashire Wildlife Trust in 2004.