Blackpool Promenade closed for marathon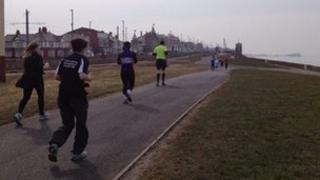 Blackpool Promenade was closed to traffic while hundreds of runners took part in the resort's marathon and half-marathon races.
Closures ran from Starr Gate to Talbot Square on the North Pier and from Lytham Road and Bloomfield Road to the promenade.
The roads were due to be re-opened at about 14:30 BST.
Blackpool Transport said trams would be operating a normal service between Starr Gate and Fleetwood.