Last founder of modern day Accrington Stanley FC dies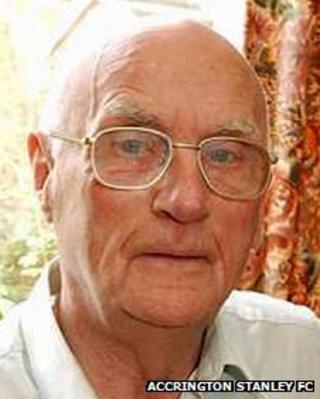 The last surviving founder of the modern Accrington Stanley FC has died.
Jack Barrett, from Accrington, who was given the Freedom of the Borough of Hyndburn in 2011, passed away on Sunday at the age of 88.
His speech at a public meeting in 1968 is believed to have inspired the club to set up again after it was kicked out of the Football League in 1962.
A minute's applause was held in his honour at the club's home game against Burton on Monday.
Rob Heys, managing director of the club, described Mr Barrett as the original Accrington Stanley legend and said some form of permanent tribute at the club's ground was planned.
He said: "People will tell their kids about Jack Barrett and what he did for Accrington Stanley.
"He will live on in people's hearts and will be in every history book that's ever written on Accrington Stanley."
Mr Heys added: "He was a quiet, unassuming man who never had a bad word to say about anybody. He was quite simply Accrington Stanley through and through."
Mr Barrett said of the period after the club went bankrupt in 1962 and was forced to resign from the Football League: "All the fun had gone out of the town and it was a miserable place to be.
"It was like there had been a death. No-one was talking."
In 2006, Accrington Stanley returned to the Football League after winning the Conference title.