Blackburn sham marriages gang sentenced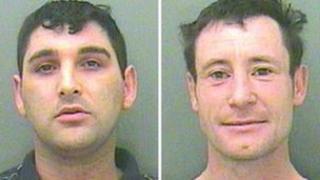 Five people from Lancashire have been sentenced for taking part in sham marriages in Blackburn and Darwen.
Kevin Donnelly, 34, of Thwaites Road, Oswaldtwistle and Jason Proctor, 40, of Prices Street, Blackburn, were jailed for 10 months at Preston Crown Court.
Amanda Nolan, 28, Denny Wallace, 22, and Gemma Nelson, 28, all from Blackburn, were given suspended prison sentences.
The weddings took place between October 2008 and October 2010.
The gang was involved in three sham marriages, receiving money to help Vietnamese people remain in the country, Lancashire Police said.
Donnelly, Proctor, Nolan and Wallace were all found guilty of assisting unlawful immigration in to EU member states.
Tip-off
Nolan, of Windsor Road, Blackburn, was given a 44-week sentence, suspended for two years and Wallace of Preston New Road, Blackburn, was given a 36-week sentence, suspended for two years.
Nelson of Whalley New Road, Blackburn, was found guilty of assisting illegal entry into EU member states and given a 36-week prison sentence, suspended for two years.
Police said the gang arranged wedding ceremonies with some exchanging rings and holding wedding breakfasts.
They took pictures of the ceremonies and presented them to the Home Office as proof of their relationships.
Police said they were given a tip-off from a member of the public on 4 October 2010 - the day after Nolan's £1,500 wedding at Whitehall Country Club, Darwen.
Det Supt Julie Cross said: "They were paid large sums of money to enter into marriages of convenience, which were a complete sham.
"I hope the case acts as a warning to those who abuse immigration rules to help people to illegally remain in the UK."
Police are still trying to trace a further four people who are believed to be involved in the sham marriages: Tuan Hoang Luu and Trang Thi Thuy Luu, both 24, and Thi Le Quyen Le and Dat Van Vu, both 23.