Lancashire farmers in wind turbine row with MoD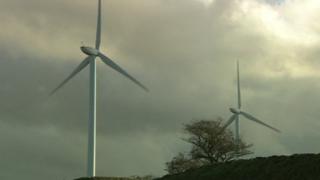 Farmers who live near a wind farm in Lancashire have been refused permission for their own domestic turbines in case they interfere with military airspace.
Five neighbours of the Hyndburn Wind Farm want to build 25m (80ft) wind turbines - nearly 100m (330ft) shorter than the 12 on Oswaldtwistle Moor.
They said they needed to generate their own power to offset "crippling" bills.
The Ministry of Defence (MoD) said more turbines would interfere with radar at its Warton base.
Hyndburn Council rejected the farmers' plans after the MoD objected.
Helen Dewhurst, of Lower Westall Lot Farm in Oswaldtwistle, was refused permission for two turbines.
'Rather bizarre'
She said: "We couldn't believe it [when the MoD objected] because we're in the shadow of the turbines that are already there.
"They said our turbines would cause interference with the radar at Warton, but if ours does, then the 12 around us must do.
"There's a lot of electricity running all day long when you have a dairy farm. Our electricity bills are crippling," she added.
"It would make a tremendous difference if we could have our own power."
Graham Jones, Labour MP for Haslingden and Hyndburn, has called on the MoD to review its decision.
He said: "It seems rather bizarre the MoD has turned this down. I think they should withdraw their objection."
An MoD spokesman said: "Each wind turbine planning application is considered on its merits and assessed on a case by case basis.
"Every wind turbine planning application is subjected to a technical and operational assessment to determine if the proposed turbine(s) will have a detrimental effect on MoD assets and operations."