Travellers to be evicted from disused Preston car park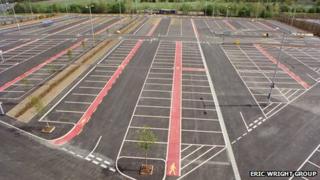 A group of travellers who set up camp on a disused park and ride car park in Preston are set to be evicted.
Lancashire County Council said it was preparing an eviction order to serve on the group after more than 30 vehicles were parked on the site in Fulwood and it would take "days rather than weeks".
They arrived there on Wednesday with caravans, vehicles and a horse box.
The park and ride facility, built in 2009 for £2m, closed in 2011 as it was underused.
The authority is working with two regeneration firms to assess the best use of redundant council properties, including the car park, which has more than 500 spaces.
It costs the council £1,000 a year to maintain the car park.