Underground Victorian reservoir sold to housing developer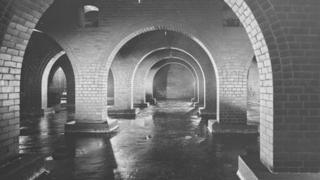 Houses could be built on the site of an underground Victorian reservoir after it was sold at auction.
Clayton reservoir, which was built in 1884 under land in Back Lane, Clayton-le-Woods, Lancashire, was sold at auction by owner United Utilities.
The site, which was decommissioned in the 1980s and has outline residential planning permission, was bought by Southport developer Kingswood Homes.
Heritage campaigners had hoped it would be turned into a heritage trail.
'Not rare'
Rosemary Boyd, from the Chorley Historical and Archaeological Society, said: "We don't have much heritage here so it is very, very sad to lose this.
"I am going to speak to Kingswood Homes and ask if we can go into partnership to develop it into a heritage trail.
"I can't give up - I won't give up until the bulldozers are in."
A spokesman for Kingswood Homes said he could not comment further until the sale had been completed next month.
It was the second time the site was up for auction after United Utilities tried to sell it last year but the reserve price was not met.
The reservoir was built to provide storage for clean water for Leyland.
The Chorley Historical and Archaeological Society described it as "the last of its kind."
English Heritage, however, has twice refused an application for the reservoir to be made a listed building.
It said it does not fulfil the criteria for national recognition as it is "neither a rare nor an exceptional example of its type".