Sham marriages: 'Chief organiser' Louise sought by police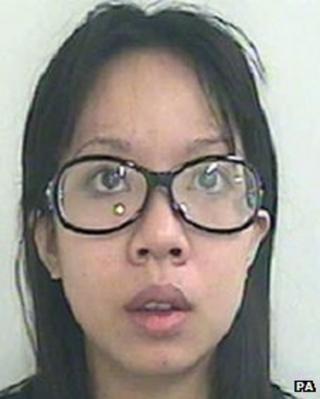 The owner of three Lancashire nail salons who was the "spider at the centre of a web" of sham marriages is wanted by police, a court has heard.
Police are trying to trace Trang Thi Thuy Luu, known as Louise, who was chief organiser of bogus weddings in Blackburn and Darwen.
Five people from Lancashire have been convicted for taking part in the sham marriages, between 2008 and 2010.
They are due to be sentenced on 12 March at Preston Crown Court.
Kevin Donnelly, 34, of Oswaldtwistle and Amanda Nolan, 28, of Blackburn pleaded guilty at an earlier hearing to taking part in the weddings.
Jason Proctor, 40, of Blackburn, denied taking part in a bogus marriage but was found guilty after an earlier trial.
'Carefully orchestrated'
Donnelly also admitted to being a witness at a fake ceremony, as did Gemma Nelson, 28, of Blackburn, and Denny Wallace, 22, of Blackburn.
All five were in court earlier for sentencing but it was adjourned by Judge Michael Byrne for mitigation.
Lancashire Police are still looking for Louise who Elizabeth Nicholls, prosecuting, told the court was at the centre of the conspiracy in her role as manager of the Miss Nails parlours.
Ms Nicholls said Louise, from Vietnam, was chief organiser in a "carefully orchestrated operation" to entice three Britons into sham weddings with her friends and family.
She told the court Louise used her connections from her Preston, Chorley and Blackburn Miss Nails salons to arrange her own marriage then she organised marriages to enable her friends and family to successfully apply to for visas to remain in Britain.
The prosecutor said "the edifice of these marriages came tumbling down" following the sham wedding in October 2010 at Blackburn Registry Office of Nolan to a man called Tuan Hoang Lu, believed to have worked at Miss Nails.
"The following day the blushing bride booked a holiday and paid in cash for herself and John Doyle," she said.
She used her payment of £4,000 to fund a trip to Mexico five days later.
Four suspects missing
Miss Nicholls said: "Miss Nolan and Mr Doyle fell out and later the police were to obtain a statement from Mr Doyle who confirmed that the money for the holiday had come from her being paid for a sham marriage."
The court was told the police had received anonymous calls indicating Nolan had "received a lot of money and had gone through a sham marriage", and she was arrested in February 2011.
Police arrested and bailed Louise of Castleton Road, Preston, later that month, but she has since disappeared.
The court was documents that were "stock in trade" for bogus weddings, including passports, birth certificates and cards between the parties of the marriages, were discovered at her address.
Lancashire Police confirmed it has been unable to trace her since and added they are looking for three other people, also from Vietnam in connection with sham marriages.