Victorian reservoir in Clayton-le-Woods up for auction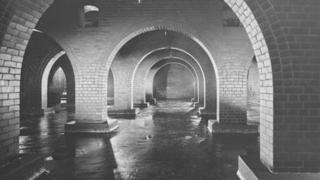 An underground Victorian reservoir in Lancashire, described as a "historical gem", is due to be auctioned for the second time in a year.
The brick-vaulted Clayton reservoir is under land in Back Lane, Clayton-le-Woods, which is being auctioned by United Utilities later.
Heritage campaigners say the reservoir is unique in Lancashire.
Built in 1884 to provide water storage for Leyland, it was decommissioned 21 years ago.
Its owner United Utilities hoped to auction the reservoir in 2012 but the reserve price was not met.
"When you go inside the reservoir, it is like the mountain kingdom," said Mr Boyd Harris, of the Chorley Historical Society.
Heritage site
Mr Harris, who used to maintain the reservoir for the North West Water Authority, added: "I can understand why United Utilities want to sell it, but the reservoir really is the last of its kind.
"Other underground reservoirs were just concrete vaults but this is unique".
The historical society is hoping that this year's auction will also fail so plans to turn into a heritage site could be explored.
This would involve taking the roof off the reservoir and turning into gardens as has happened with the Paddington Reservoir, Sydney, Australia.
Campaigners in Chorley have been in touch with the group that saved the Australian reservoir.
United Utilities said: "Ecology and heritage issues were explored thoroughly as part of the planning application for this brownfield site.
"Planning was granted by the local authority following a consultation exercise taking into account all the facts."
English Heritage has twice refused an application for the reservoir to be made a listed building. It says it does not fulfil the criteria for national recognition as it is "neither a rare nor an exceptional example of its type".