Lancashire council tax cut by 2% in surprise move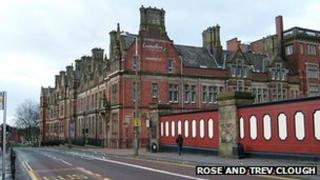 Council tax has been cut by 2% in a surprise move by Lancashire County Council.
The reduction was agreed at a full council meeting earlier, during which the budget for 2013-14 was set.
The Conservative led authority is responsible for about 80% of local government spending, with the other local authorities providing the rest.
Funding for 48 new police community support officers, at a cost of £3.7m, was also announced during the meeting.
The £15m of investment plans, announced at County Hall in Preston, include a new £5m dementia centre at an as yet unconfirmed location.
A further £3.3m was allocated for a training and support programme to help people who have been made redundant.
In addition £1m will be provided for young people's services, with another £1m used to install toilets in major centres across Lancashire for people with severe learning disabilities.
"Surprise announcement"
Council leader Geoff Driver said: "It has been a tough period for local government and there are even more difficult times ahead, but people across Lancashire are having a difficult time financially too and we want to do what we can to help.
"The county council has managed its finances very well despite huge reductions in funding and that has put us in a strong enough position to cut council tax while announcing new investments and continuing to make savings."
Jennifer Mein, Labour group leader on the council, described the move as a "surprise announcement".
She said: "It's a blanket bribe to the electorate - the [local council] election is ten weeks away and I'm positive the people of Lancashire will not fall for this bribe."
Professor Bill Winlow, Liberal Democrat group leader on the council, called the move "electioneering".
He said: "The big issue is that by cutting council tax like this, you end up creating a hole in future years which you have to somehow fill.
"In a few years time, we are probably going to have to start putting up council tax rather more than one would have expected".
The council is currently carrying out a three-year savings programme, during which it will spend £215m less on management and administration.