Burnley father's fight for children to stay in UK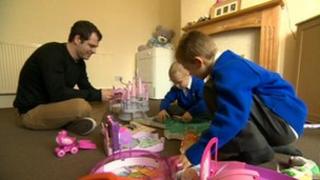 A father who brought his children to the UK from South Africa after their mother killed herself is fighting to stop them from being deported.
Justin Tutt, from Burnley, Lancashire, said his children Seth, eight, and five-year-old Leigh face going into care if they return to South Africa.
The barman, who has lived in the UK for five years, brought them to the UK on holiday visas, which expire in March.
Burnley Lib-Dem MP Gordon Birtwistle is supporting his plea for help.
Mr Tutt has been told he does not earn enough to be granted permanent visas for his children.
Government rules brought in in July last year state people living in this country must be earning £22,400 plus £2,400 for each dependent they want to bring into the UK.
'Special case'
The children are due to fly back on 21 March but Mr Tutt, 29, said he is determined to keep them with him in Lancashire.
He said: "They have seen their mum commit suicide and you need to realise that she did shoot herself and they did see it.
"There's no-one there to look after them, all my family, we all live here in the UK.
"These children belong with us as a family, they are our children and they need to stay with us."
Seth and Leigh had been staying with their grandparents but Mr Tutt, who lives in Burnley with his partner, her daughter and their baby son, said that was just a temporary measure.
Mr Birtwhistle said: "This is a case of two young children who will be put in a children's home without their mother, who unfortunately has died, their father, and grandparents that can't look after them.
"This is a separate case outside of that, for the sake of the children we must change this to look at this as a special case."
The Home Office said it would not comment on individual cases.