Investor Simon Rigby bids to save Preston bus station from demolition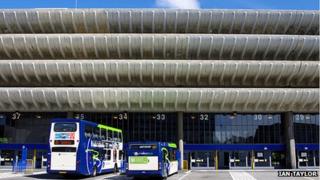 A Lancashire entrepreneur has offered to put up the cash to save Preston bus station from bulldozers as he "knows what it means to local people".
Energy tycoon Simon Rigby stepped forward after Preston Council voted to demolish the building because of the costs of running and refurbishing it.
He said his plans to turn the upper decks into a car park were backed by a consortium of local experts.
The council said it was considering the proposal.
Refurbishing the building could cost £23m, chartered surveyors have said, and running costs are £300,000 a year.
Mr Rigby, who founded utilities company Spice and is now CEO of the Greengen Group, said: "We are all Preston lads, we were brought up around the bus station, we know what it means to people in Preston.
"I will personally put the money up to keep it. In the short-term this is a charity case because there is no magic wand which can be waved - if there was someone would have waved it by now.
"It is a choice, either we keep the bus station in the family and bring it back to health or it gets knocked down."
He said the details of the bid were commercially confidential, but added: "The intention is to operate the upper decks as a car park and make the lower part a welcoming area for people.
"I am completely committed to the car park and the bus station staying right where they are."
Council leader Peter Rankin said demolishing the bus station and building a smaller one would be better value for money.
Heritage campaigners said the building was iconic and an asset to tourism.