Papers served on Sita over Whinney Hill landfill smells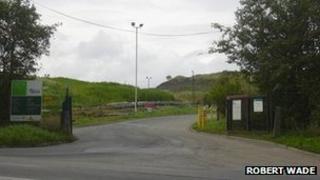 Almost 100 Lancashire residents have started legal proceedings against a firm operating a landfill site in Altham, Accrington.
Solicitors acting for 94 people have served papers on Sita UK, which runs Whinney Hill Road site, over claims of foul smells coming from the site.
Neil Walker who has lived near the site for 10 years said the smell was "horrendous" and like "rotten eggs".
Sita UK said it could not comment on it as it was "an ongoing legal matter".
'Enjoy our property'
Mr Walker said the odour was intermittent but when it appeared it was "horrible".
He said: "You can't sit out and you can't open you have to open your windows.
"We just want to enjoy our property."
Solicitor Rhian Morgan said the action was being brought under the Law of Private Nuisance on the grounds of the residents having "unreasonable interference with enjoying their property".
She said: "The driving force behind the injunction was to put an end to the problem."
There is a secondary claim for compensation for past problems caused by odours omitted from the site.
In a statement Sita UK said: "As this is an ongoing legal matter we cannot provide any specific comment at this stage.
"However, it is important to note that Whinney Hill landfill site fulfils an essential strategic role in the safe and responsible disposal of the region's waste.
"All operations are undertaken in line with robust environmental legislation and are regulated by the Environment Agency."
In November, the Environment Agency said it had been working with Sita over the last year "to ensure it carries out work to reduce the level of odour being released from the site".