Job losses at Blackburn-based Thwaites brewery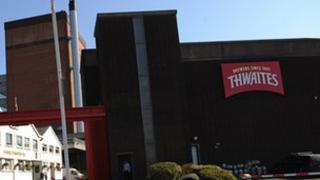 Twenty five jobs are to go at one of Lancashire's oldest breweries.
Daniel Thwaites PLC, which was established in 1807, said it was planning to restructure its operations.
It blamed the job losses on losing a number of packaging contracts and an increased customer pressure to reduce costs. It currently employs 366 staff.
The family-run firm said it was hoping to minimise job losses through redeployment and voluntary redundancies.
'Hardest decision'
Daniel Thwaites PLC chief executive officer Rick Bailey said: "These are incredibly tough times for all businesses, and most companies in our sector and elsewhere are focusing on ways that they can save costs and work more efficiently.
"Unfortunately this also includes considering job losses, which is the hardest decision to make."
Mr Bailey added: "It is imperative that we continue to adapt our business to reflect changes in the market and remain competitive whilst not compromising on the quality of the beers that we brew for our customers."
The company is famous for its traditional Shire horse drawn wagons.
In 1985 the dray horses were awarded freedom of Blackburn.