Measles cases affect children in Heysham and Morecambe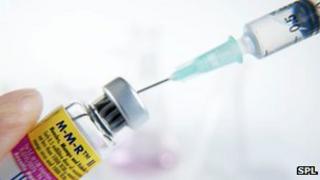 An outbreak of measles in north Lancashire has seen 35 cases confirmed since September, health officials said.
The Health Protection Agency (HPA) said the disease was mainly affecting unvaccinated schoolchildren in the Heysham and Morecambe area.
Parents are being urged to make sure their children have the required two doses of the MMR vaccine.
Dr Ken Lamden from the HPA said such a high number of cases was "highly unusual".
He said: "People had forgotten how serious the disease was as it had all but disappeared; unfortunately we are now seeing more cases."
Adults up to the age of 30 who missed out on the vaccine when they were children can still be immunised, Dr Lamden said.
Measles is an infectious viral illness that is spread when infected people cough or sneeze.
The most common symptoms are fever, cough, sore eyes and a rash that develops three or four days after the onset of illness, starting with the face and head and spreading down the body.
More than 600 cases were confirmed in the North West last year, with most on Merseyside and in west Lancashire.