Dakar Rally crash: Injured Justin Birchall wants to see team finish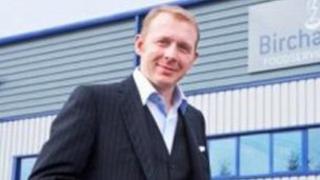 A Burnley man injured in a car crash in Peru in which two people died is hoping to get out of hospital in time to see his team finish the Dakar rally.
Two taxi passengers were killed in a head-on collision with a Land Rover transporting members of the British Race2Recovery team to camp on Thursday.
The team's driver Justin Birchall was among seven injured, including three people from the Race2Recovery squad.
Mr Birchall broke four ribs in the crash.
The company director of Birchall Foodservice in Hapton, Burnley retired from the race after the gearbox on his car was damaged.
The collision happened when he was being transported to camp in a support vehicle.
The team's mechanic Lee Townsend, from Yate near Bristol, and logistics expert John Winskill, 42, from Durrington, near Salisbury, Wiltshire were also injured in the crash.
Krissy Johnson, a manager at Birchall Foodservice said: "He's doing well.
"He has four broken ribs and that is the extent of his injuries, luckily.
"He doesn't want to come home.
'Put so much into it'
"He wants to get back to the guys and the team and hopefully stay until the end and see them finishing.
"He has put so much into it and we still have a car in it.
"They might make him come home but he is not considering that option at all."
She said Mr Birchall was boosted by a get well message sent from Prince William.
Race2Recovery, which raises funds for military charities, received the first grant issued by the Endeavour Fund, set up by the Prince William, Prince Harry and the Duchess of Cambridge's Royal Foundation.
The cause of the crash is still under investigation and the four passengers in the taxi remain in hospital.
The rally began in Lima on 5 January and will finish in southern Chile on 20 January.