Two sentenced over Lancashire sheep rustling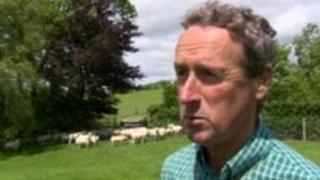 A man caught rustling sheep worth up to £15,000 from a Lancashire farm has been given a nine-month suspended sentenced at Preston Crown Court.
John Kirkham, 66, of Sowerby Road, Preston, pleaded guilty to theft. His sentence was suspended for 12 months.
James Hesketh, 22, of Longridge, was also found guilty of handling stolen goods and received a community order.
They were caught by police using DNA to match the stolen sheep with the rest of the flock on the farm in Chipping.
The stolen sheep, which belonged to farmer Robin Dean, were found on a farm in Durham five days after the theft when a neighbouring farmer became suspicious and contacted police.
Police said it was the first time this technology has been used in a sheep rustling case.
Det Con Elaine Smalley said: "This has been a long and complicated investigation which involved two men who were from the farming community.
"Crimes such as this have a hugely damaging impact on rural communities.
"Not only is there a financial burden for farmers but sheep are their livelihood and a great deal of time and effort goes into farming all year round.
"To have that snatched away by greed is devastating."
As well as the 12-month community order, Hesketh, of Wheatsheaf Avenue, was ordered to do 80 hours unpaid work.