Blackpool's smoke-free parks criticised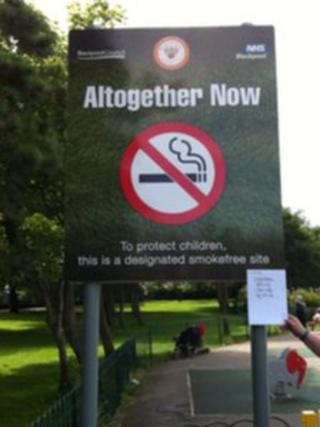 A smokers' lobby group has claimed there are no health benefits from banning smoking in parks, after 13 in Blackpool were designated smoke-free sites.
The NHS Blackpool initiative, supported by Blackpool Council, aims to deter smoking but cannot legally enforce a ban without a specific by-law.
Campaign group Forest said it promoted intolerance and social exclusion.
Dr Amanda Doyle said children "deserve to play in a healthy environment".
Signs have gone up at public park entrances to warn visitors that children need protecting from smoking.
The signs read: "Altogether Now. To protect children, this is a designated smokefree site."
'No risk'
Dr Doyle, Blackpool GP and clinical lead for Blackpool Clinical Commissioning Group, said there was "overwhelming public support" for smoke-free parks and playgrounds.
"Tobacco litter is greatly reduced where the smoke-free message is clear. Cigarette butts are not biodegradable so they pose a danger to young children who may eat them," she said.
"The sooner smoking becomes less visible in our local community the better for our children."
Simon Clark, director of Forest, said: "There are no health benefits from banning smoking in public parks. No-one is at any risk from bring exposed to a wisp of smoke in the open air.
"Tobacco is a legal product and consumers must be allowed to smoke somewhere. This policy promotes intolerance and social exclusion because it will discourage smokers, especially elderly smokers, from going out."
Ivan Taylor, Blackpool Council's cabinet member for health and wellbeing, said: "The idea is to protect the children who are on the playgrounds.
"I don't think it's reasonable for children who are playing to be suffering from inhaling smoke and to be influenced by seeing adults also smoking.
"Smoking is a killer and we need to do all we can to discourage it."
The parks involved are Anchorsholme Park, Bancroft Park, Boundary Park, Central Drive Recreational Ground, Claremont Park, Crossland Road Park, East Pines Park, Fishers Field Playing Fields, Gynn Square Flagstaff Gardens, Highfield Road Recreational Ground, Kingscote Park, Watson Road Park and Whiteholme Playing Fields.