Holly Bleasdale accepts marriage proposal after pole vault final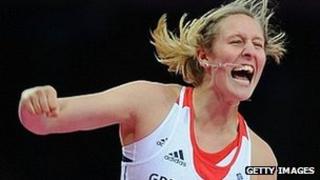 Team GB pole vaulter Holly Bleasdale has accepted a marriage proposal, hours after the disappointment of her sixth place Olympic finish.
Bleasdale, from Lancashire, said she had been "heartbroken with how it went" in Monday evening's competition.
However, writing on the social media site Twitter later, the 20-year-old announced that her boyfriend Paul Bradshaw had proposed to her.
He then responded that she had said yes, making it the "best day ever".
Bleasdale, from Euxton, near Chorley, is the British record-holder in pole vault and had been tipped to do well at London 2012.
Following her third consecutive failed attempt at the height of 4.55m in the final, the pole vaulter, who trains with Blackburn Harriers, said she "could have performed well this year".
"I am trying to look at the positives, and to finish in the top eight in my first Olympic final is pretty good, but I am just heartbroken with how it went," she said.
However, following the proposal, she later tweeted that she had had an "epic day".
The Wigan-based athlete's tweet read: "6th in the Olympics and @bradshaaaw proposes to me :) epic day!!!"
Her boyfriend responded: "I have just proposed to @HollyBleasdale and she said yes!!!!! Best day ever!"
Beijing Olympics silver medallist Jennifer Suhr of the United States won the pole vault final.
The 30-year-old athlete cleared 4.75m.