Bradley Wiggins offered Freedom of Chorley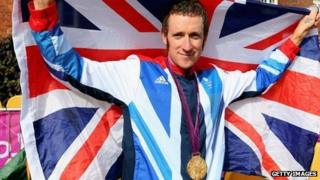 Bradley Wiggins is to be offered the Freedom of the Borough of Chorley on his return to Lancashire, the council's deputy leader has said.
Wiggins moved to Eccleston to be closer to the Manchester Velodrome.
The Tour de France winner won his seventh Olympic medal in the London 2012 time trial, becoming Britain's most decorated Olympian.
Deputy leader Peter Wilson said it was "brilliant to see a Chorley resident become such an inspiration to others".
"He has acted with such dignity and humility throughout the past few weeks in which he has won the most prestigious cycling event in the world, started the opening ceremony at the Olympic Games and then taken a gold medal in the time trial event," he added.
"We thought it was only right we offered him the highest honour possible we can give to a resident."
The Freedom of the Borough is the highest award the council can bestow.
Chorley Council has bestowed only two Freedoms in the past, both to regiments - one in 2005 to the Queens Lancashire Regiment (now the Duke of Lancaster's Regiment) and the other in 2007 to the 5 General Medical Support Regiment based in Chorley.
The authority is also planning to host an event to allow Chorley residents to celebrate the success of all the local athletes participating in the Olympic and Paralympic Games.