Shafilea Ahmed's poems reveal secret torment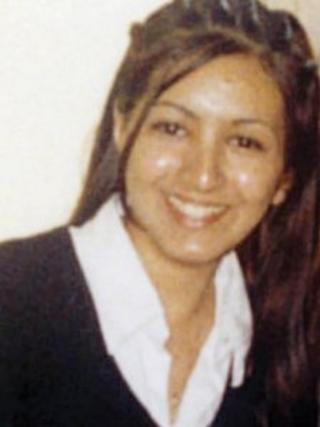 Shafilea Ahmed appeared to many to be a happy, smiling teenage girl who had a good relationship with her parents.
A friend described her "happy personality" and "giggles" and said she did not seem to have any problems.
But letters and poems found after her disappearance paint a darker picture - one of a girl struggling with the differing cultures of her Pakistani heritage and her upbringing in the UK.
Rows over Shafilea's westernised ways came to a tragic end in 2003 when she was murdered by the people who were supposed to love her the most - her parents Iftikhar and Farzana Ahmed.
Both were found guilty of her murder after a trial at Chester Crown Court.
The court heard that she had felt under pressure to move to Pakistan to be married, as her parents disapproved of her boyfriends and western clothing.
It was on a trip to Pakistan for a family wedding in 2003 that she drank bleach - an incident that she possibly wrote about in secret in her bedroom at the family home in Warrington, Cheshire.
During the trip she had received marriage proposals and was told by her mother she would never return to the UK.
In one poem, called "Happy Families" (sic), she wrote:
"All they think about is honour
"I was like a normal teenage kid
"Didn't ask 2 much
"I jus wanted to fit in
"But my culture was different
"But my family ignored"
She went on to write:
"I wish my parents would be proud of wot I've done. Instead it's you've have brought shame".
In another poem, called "I Feel Trapped", Shafilea appeared to reveal suicidal thoughts when she wrote:
"I wish I coulda changed the event
"I shoulda killed myself instead
"I'd rather have been dead
"Coz now I have a burden on my chest
"And now it won't go away - the guilt, the pain."
Despite her inner torment, Shafilea appeared to many as a normal teenage girl.
A friend, who asked not to be named, remembered the last time she saw her at a friend's 21st birthday party.
She said: "That beautiful face, that gorgeous smile, those giggles... it's hard to believe she is dead. It's such a loss."
She added: "Everyone has stood by the Ahmeds because they're such a nice family.
"I wouldn't have thought anything like that could have happened at all."
Both Iftikhar and Farzana Ahmed had denied having any part in Shafilea's disappearance, until Farzana changed her account at the trial, claiming she saw her husband beat Shafilea on the night of the murder.
Shafilea's friend added: "I had no inkling whatsoever she had problems with her parents.
"I was really shocked when Mrs Ahmed said her husband had attacked Shafilea."
The friend talked of her "happy personality" and how she just "got on with things".
However, early signs of a troubled relationship between Shafilea and her parents had surfaced when she ran away from home aged 11, police said.
By the time she was 17 she had run away twice - the second time for a week when she stayed with friends before being placed in accommodation by social services.
In an emergency accommodation request made to social services, she said she had suffered from regular domestic violence from the age of 15.
She added: "But my main reason (for wanting to find somewhere else to live) is because my parents were going to send me to Pakistan and get me married to someone and left there."
During the trial, her teacher at Great Sankey High School, Joanne Code, told the court how Shafilea said she was worried about her welfare and feared her parents would "marry her off" in Pakistan.
She said she had seen injuries on Shafilea which she claimed were caused by a "beating" from her parents.
Mrs Code also told the jury she was a "very, very good student" who was "very, very clear she wanted to be a barrister" and was "exceptionally keen to go to university".
It was one of Shafilea's teachers who reported Shafilea missing - and not her parents - when she disappeared for the final time in September 2003.
A month later, a missing person's investigation was launched by police and her parents appealed for anyone with information to come forward.
The teenager's remains were found on the banks of the River Kent in Cumbria in February 2004.