Open at Royal Lytham and St Annes 'to attract 200,000'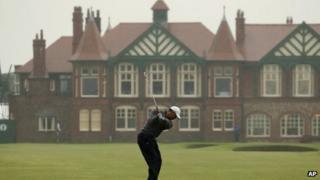 More than 200,000 visitors are expected to flock to the Fylde Coast in Lancashire over the next four days for the Open Championship.
Even before the tournament started more than 33,000 fans had attended practice days.
The event at Royal Lytham and St Annes Golf Club is estimated to be worth over £70m to the Lancashire economy, according to the county council.
The authority said businesses across the area would benefit.
Tim Ashton, cabinet member for highways and transport, said these included hotels, taxi firms and public transport.
He said neighbouring towns would be boosted by the increase in visitors.
'Greater good'
"The event might be in Lytham but the events accrue all over Lancashire," he said.
Following complaints from residents about parking restrictions and an increase in traffic, Mr Ashton said: "We recognise some residents are inconvenienced but it is a big, worldwide event which comes once in a blue moon and we should grasp it... for the greater good of the area."
Fylde Council's deputy leader Sue Fazackerly said the event was a "wonderful chance to put Lytham on the world map".
"We are only a small borough but this gives us chance to publicise the area all over the world," she said.
"It's a huge boost for the local economy but even more it's the television exposure of Fylde we could never in a month of Sundays afford if it wasn't for the Open Golf."
'Lifetime opportunity'
Residents have been making up to £10,000 for letting out their homes during the championship, according to estate agent John Lever.
"It is a lot of money but for some it is a once in a lifetime opportunity," he said.
Three-time Open champion Tiger Woods caused controversy earlier this week when he said the rough in some places on the course was "almost unplayable" after an unusually wet British summer.
The 36-year-old said the rough was the toughest he has ever faced.
Woods added that the course was "fair" and that good scores are still possible.
Defending Open champion Darren Clarke described the rough at Royal Lytham as "brutal".
It is the 11th time the Open Championship has been held at the Royal Lytham & St Annes Golf Club. The last Open was last staged on the Fylde Coast in 2001.