Lancashire Police 'on track' for £43m savings target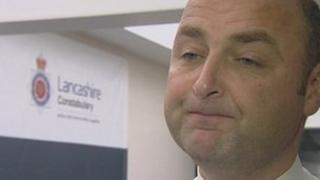 Lancashire Constabulary is in a "good position" to hit its £43m savings target by 2015, according to a report published by inspectors.
The report from Her Majesty's Inspectorate of Constabularies (HMIC) shows the force has made cuts of £33m.
It acknowledges there will be 190 fewer staff by 2015 although there will be an 8% increase in frontline staff.
Assistant Chief Constable Tim Jacques said it may be "on track" for the cuts but it faced its toughest year ahead.
The HMIC said three police forces may not be able to provide a "sufficiently efficient or effective service" due to budget cuts.
Its report on the impact of 20% funding cuts to police said the Met Police, Devon and Cornwall and Lincolnshire were at risk.
The government announced in 2010 cuts to the police service funding between March 2011 and 2015.
Mr Jacques said the budget cuts will "not be without impact" as the force strived to maintain services with "fewer staff and less money".
"We've taken over £33m - we've still more money to take. We know where a significant proportion of that money is coming from but the review programme continues."
He added: "As the report acknowledges there will be 190 less staff albeit there will be a greater proportion on frontline services.
"We're taking more out of the back office and middle office so prioritising and protecting frontline service delivery as much as possible."
Chief Constable Steve Finnigan admitted in February that budget cuts were hitting policing in the county.
He said new policing arrangements had been put in place to cut costs and the changes made it harder to reduce crime.