Blackburn Rovers fans meet FA over Venky's ownership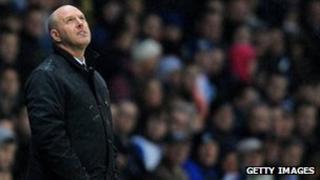 A group of Blackburn Rovers fans has met the FA to discuss the running of the club by its owners Venky's.
Blackburn Rovers Action Group (BRAG) presented a 400-page document detailing the findings of their inquiry into the running of the club.
The group met Sports Minister Hugh Robertson on Wednesday along with local MPs Jack Straw, Jake Berry and Graham Jones to discuss their concerns.
A spokesman for The FA confirmed the fans' inquiry would be reviewed.
Indian owners Venky's bought the club in November 2010 in a £43m deal.
Since then, fans have staged numerous protests against their ownership and management of the Ewood Park club.
'Questions answered'
Chairman of BRAG Glen Mullan said the FA took a copy of the document to study.
He said: "We need to know who owns the club, who is making the decisions and what agent involvement there is.
"We have spent the last 10 months investigating our own football club, and we are now presenting our findings through this document."
He added: "We're not private investigators, we're football fans - we shouldn't have had to take it to this level."
The document includes a petition with 8,000 signatures, asking for the removal of manager Steve Kean and Venky's from the club.
BRAG, which has already met representatives from the Premier League, said it would take the investigation to Uefa and Fifa if necessary.
'Major community asset'
Jake Berry, MP for Rossendale and Darwen, said: "Myself, Jack Straw and Graham Jones are going to write a question list which will be sent to the FA and the Premier League to ask if they will intervene and get these basic questions answered.
"I think it's great that three local MPs, regardless of their political party, have come together to support what is a major community asset for us, which is Blackburn Rovers."
Blackburn Rovers were relegated from the Premier League in May after finishing second bottom.
Organisers of a trust set up by Rovers fans claim £2m has been raised in a bid to buy the club from its Indian owners.