Lancaster market traders get compensation from council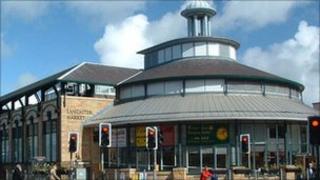 Lancaster market traders are to receive compensation from Lancaster City Council for closing the indoor market.
The council voted to close the market in November as part of efforts to reduce annual losses on the lease.
Peter Corke, from the Lancaster Market Traders' Association, said traders were "very relieved" at the news.
The councillor in charge of markets, Jon Barry, said the compensation deal was "incredibly important for traders after years of uncertainty".
Mr Corke said stall-holders had threatened to take legal action against the authority if they refused to compensate them.
He said: "Traders are very relieved it is finally over and the council has seen sense.
"It has been going on for years so they are glad it is no longer hanging over them."
Under the agreement, traders will leave the market by 14 September.
Mr Barry, cabinet member for markets, said "negotiations continue" between with Allied Lancaster Ltd, who own the market premises on Common Garden Street, regarding the lease agreement.
It is £650,000 a year and still has over 80 years still left to run.