Wyre Estuary gas storage plans 'would create 3,000 jobs'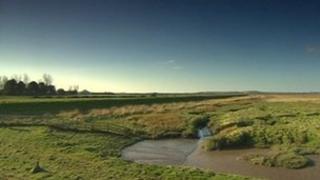 A company that wants to store gas in underground caverns on the Fylde coast has said the project would create up to 3,000 jobs across the UK.
Halite Energy Group plans to store up to 900 million cubic meters of natural gas in 19 purpose-built caverns at Preesall.
Its chairman Dr John Roberts said the £660m project was needed and would increase the UK's gas reserves by 20%.
Residents in Over Wyre have previously campaigned against similar plans.
Dr Roberts said: "The benefit for the UK's energy policy is that this will provide a 20% increase in energy gas storage in the UK which is essential to support the government's energy policy and in particular their policy to bring in more renewables and take carbon out of energy production.
"From the point of view of the people in Preesall, it's very safe technology and we're absolutely certain that this is a very safe means of storing gas."
A report published by economic development and regeneration consultants Regeneris said the total investment of the project would be £660m.
It said about 3,000 jobs would be created over the eight-year project, of which about 500 would be in Lancashire.
The application is being examined by the Planning Inspectorate and a final decision will be made by April 2013.
Previous applications for the site made by Canatxx UK, which has since reformed as Halite Energy Group, were rejected.
This revised application is the fourth in 10 years.
Howard Phillips from Protect Wyre, which is opposed to the plans, said: "People are objecting in their thousands.
"The geology hasn't changed, the safety issues haven't changed, it's just the name of the company that's changed."