Blackpool Council to axe 75 jobs in £10.6m cuts package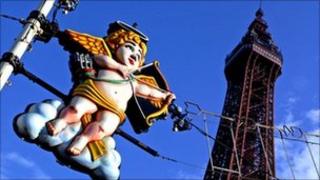 Blackpool Council has agreed to slash its spending by £10.6m in the coming year and cut 75 jobs.
Councillors agreed a £144.2m budget and a council tax freeze with the bulk of the savings - £5.8m - coming from the social services budget.
Back office costs will be reduced by £2m and nearly £1m will come from a thinned tier of senior management.
Council leader Simon Blackburn, Labour, said: "It [the budget] does the best we can with what we have got."
Care packages
Half of the job cuts will come from not filling existing vacancies and it is hoped the rest will be achieved by voluntary redundancy and retirement.
A council spokesman said compulsory redundancies would be the last resort.
Last year's budget saw 750 posts lost.
The cuts in the social services budget will see a stricter criteria for adult social care, a redesign of day services for older people and supported living services and a review of care packages for people with learning difficulties.
However the budget also allocated money towards securing the Illuminations and secured the future of Mereside and Boundary libraries as well as protecting Children Centre budgets.