Chorley Pals project receives £270,000 lottery funding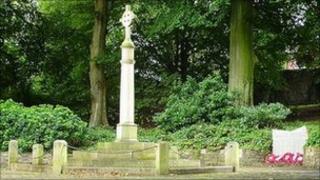 A project to remember Chorley's servicemen and women has been awarded £270,000 by the Heritage Lottery Fund.
The Chorley Pals Memorial Charity will use the grant to redevelop the Memorial Room at Astley Hall and set up a new exhibition and heritage trail.
The Chorley Remembers project will culminate with the engraving of the names of the fallen around the town's war memorial in Astley Park.
Steve Williams from the project said the plan was creating "great interest".
He said: "It's not just about the First World War, it's also for the Boer War, Second World War and modern conflicts.
"Chorley men and women served in those conflicts over the years and we want to record them."
Dambusters
The new exhibition will tell the story of the social and military history of Chorley and there will be an education programme for local schools and adults.
The Memorial Room at Astley Hall will be redeveloped into a Remembrance experience and work will also take place to improve access to the Chorley Pals Memorial site.
The town has had a barracks and drill hall since Victorian times supplying volunteers to the armed forces for more than 150 years, including 3,500 in World War I - around 6% of the population of Chorley.
Chorley ROF was one of the Royal Ordinance factories, at its peak employing more than 40,000 people producing munitions, including involvement in the bouncing bombs used in the famous Dambusters' raid in May 1943.
The factory closed down over the intervening decades and the project intends to record the workers' stories.