Bispham High School joins forces with Blackburn Diocese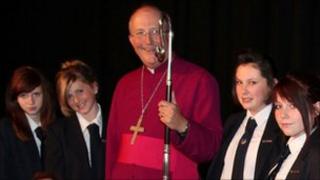 A ground-breaking partnership has been signed by a Lancashire non-faith school and the Blackburn Diocese.
Bispham High School and Arts College and the diocese have pledged to share best practice ideas alongside conferences, seminars and arts events.
It is the first time such an affiliation has been formed in the North West.
It is also seen as an important development within the region's education circles.
Welcomed
Fred Kershaw, acting head of education at the Blackburn Diocese welcomed the new partnership.
He said: "We feel this is a great opportunity for a wonderful relationship that church schools and community schools can have together."
The Bishop of Blackburn was amongst the guests at the launch of affiliation as were many of the 900 pupils, aged between 11 and 16-years-old, who attend the school.
Margaret Singleton, head teacher at Bispham High, said: "I really want the school to have a sense of family and to work with the values of respect and tolerance. In a way, our values so closely mirror Christian values."
She said the church was not becoming a faith school: "When we sent out the consultation documents and then at the count, it became clear the parents were OK about us going ahead. I could hear people saying that we were going to become a church school, which we are not."
The agreement has emerged after a close relationship was formed with the school and the nearby parish of St. Stephen's on the Cliff.
The church has been invited into the school to take some assemblies and the college gospel choir and the church choir have merged for performances.
Ms Singleton said: "Working closer together seemed the next natural step."
'Natural affinity'
Canon Andrew Sage from St. Stephen's agreed. He said: "Many of the children in our parish already come to this school and the school is already very much part of our community."
St. Stephen's, which celebrates its centenary next year, is also known for its actors' chapel which reinforces its links with Blackpool's entertainment tradition.
Mr. Sage said: "For a long time St. Stephen's has had a connection with theatreland and so we have a natural affinity with Bispham High as they are a performance arts college."
Both the school and the diocese see this new partnership as a two way process.
Ms Singleton said: "We will share resources. We are a college and hopefully there will be schools within the diocese that we can help. We will benefit from the resources and skills of the schools in Lancashire. We have already had offers of help with various projects.
"Hopefully we will build on this and we hope to give as much as we take from the partnership."
Joe Wilson presents the faith programme on BBC Radio Lancashire from 06:00 each Sunday.