Morecambe and Wise widows visit new Blackpool waxworks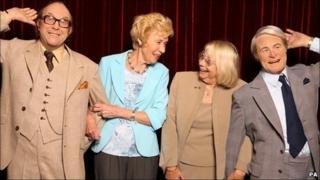 The widows of Eric Morecambe and Ernie Wise have visited Blackpool to see new waxworks of their late husbands.
Joan Morecambe and Doreen Wise made a rare appearance together to give their verdict on the figures of the much-loved duo, which cost £150,000 each.
Depicted doing their iconic dance, each waxwork was recreated using photos and measurements taken during a sitting in the 1960s, and took six months to make.
Mrs Morecambe said: "It is great seeing them looking so animated."
'Great affection'
The waxworks have been unveiled at Madame Tussauds Blackpool.
Morecambe and Wise first appeared in Blackpool at the Winter Gardens in 1953 and did their final turn at the ABC Theatre in 1965 and the resort is still a special place for Mrs Morecambe.
She said: "Blackpool holds a lot of memories because my first child was born here when we were working for George and Alfred Black at the Winter Gardens. It was where Eric learned to drive.
"Blackpool was the place to be over the summer and while the shows were on we would make friends with the other performers and the local people.
"We used to have the best parties every week with Joan Regan, Des O'Connor, Tommy Cooper and Josef Locke."
The first waxworks of Eric and Ernie were unveiled in 1972 to a less than enthusiastic reception, and were taken off display a couple of years later "because it didn't look like Eric and Ernie to be honest", according to Mrs Wise.
The Morecambe and Wise partnership lasted from 1941, when they met while doing a revue at Nottingham Empire, until Morecambe's death in 1984. Ernie Wise died in 1999 and the pair are still remembered fondly.
"It's been such a privilege to know that they're remembered so well and with such great affection," said Mrs Morecambe.