Jennifer Saunders awarded honorary degree by Edge Hill university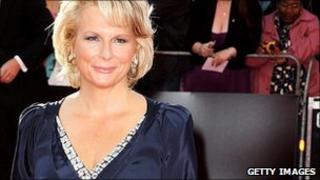 Absolutely Fabulous star Jennifer Saunders has been awarded an honorary degree by a Lancashire university.
Ms Saunders, 53, from Lincolnshire, received an honorary doctorate in literature at a graduation ceremony at Edge Hill University in Ormskirk.
The comedian, recently treated for breast cancer, told students: "You have been working very hard for your degree and I'm getting mine for free.
"You have studied hard and I have had some lovely lunches - get over it."
The award recognised her contribution to the arts as a writer, actress and comedian.
The mother-of-three told the assembled graduate she had written her speech by going onto the "interweb, Googled and set about cutting and pasting".
'Wonderful things'
She added: "Why change it? If the stuff is out there, why waste the time changing it into your own words?"
Ms Saunders shot to fame as a member of the Comic Strip collective, where she met husband Adrian Edmondson and comedy partner Dawn French.
French and Saunders worked together for 30 years until bowing out with a series of live shows in 2008, although they reunited last year for a series of BBC Radio 2 shows.
Saunders also created and wrote Absolutely Fabulous, in which she starred as fad-obsessed Edina Monsoon alongside Joanna Lumley.
Her cancer treatment, which ended in March, saw her undergo chemotherapy and radiotherapy after a number of malignant lumps were found.
She told students at the university to be confident and not be afraid of change.
"Keep an open mind, work hard, play a lot, be kind and wonderful things will happen to you," she said.