Blackpool Council workers agree to a pay cut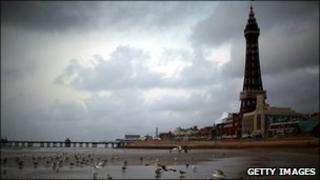 The leader of Blackpool Council has welcomed a decision by its workers to take a pay cut.
Councillor Peter Callow, leader of the Tory-controlled authority, praised his staff's realistic approach.
The council is due to announce later how many jobs it plans to cut - in November it said the number could run from 800 to 1,000.
Union officials said they have tried to cooperate with the council but have not ruled out strike action.
The council is set to announce its full proposals for saving £27m.
From April, all council workers in the resort will receive a cut in their annual salary equivalent to four days' pay.
Mr Callow said: "They are taking a pay cut, they want to job share, they want to do anything to hang on to their jobs.
"Blackpool is not a place where you can find work very easily and even if you do it is not high paid work."
He added: "I praise the unions for sitting down with us and coming up with a solution."
Mike Booth, the regional representative for the union Unison, said: "Staff have taken the view that they want to contribute to saving jobs and services for the people of Blackpool.
"We've not rolled over.
"But following today's announcement we may be balloting our members for industrial action."