National heritage award for Burnley's Queen Street Mill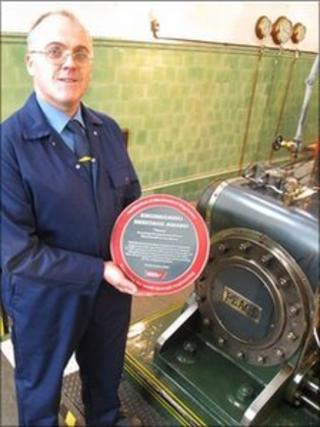 A 116-year-old working weaving mill in Burnley has received a national heritage award.
The engine at Queen Street Mill at Harle Syke was built in 1894 and is thought to be the world's last 19th Century steam-powered weaving mill.
During World War I it powered 1,000 looms, weaving 200 yards (183m) of cotton a week, and operated for 50 years without electricity.
The mill was honoured by the Institution of Mechanical Engineers.
The institution grants heritage awards to artefacts, sites and landmarks or groups that are one of kind and of engineering importance.
Museum manager Alwyn Rogers, who has worked with steam engines for much of his life, said the mill deserved the award.
'World leaders'
"It is very fitting it is getting this award because it is a very special engine, built when engineering work put the great into Great Britain and we were the world leaders in engineering.
"It was built by William Roberts & Sons just a mile-and-a-half away at Phoenix foundry in Nelson, and I think it's nice to celebrate a local product that has survived the test of time."
The engine was only serviced once in its working life.
Although the mill stopped operating as a commercial concern in 1982, it is still working as part of the Queen Street Textile Museum.
The mill was named Peace following the Armistice of 1918 in honour of the Lancashire mill workers who lost their lives in World War I.
The museum, which is owned by Lancashire County Council, attracts 12,000 visitors a year.