Preston's Tithebarn development gets go ahead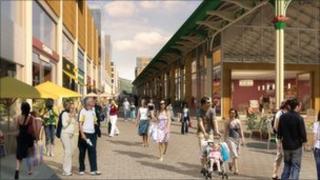 A £700m plan to revolutionise Preston city centre has been given government approval.
Communities and Local Government Secretary Eric Pickles has over-ruled an inspector's recommendation to reject the Tithebarn shopping development.
The move had been opposed by neighbouring councils Blackburn and Blackpool who saw it as a threat to their own trading future.
But Mr Pickles said the development would not adversely effect the towns.
The Tithebarn scheme plans include large-scale demolition and re-building work, creating a John Lewis store, a new bus station and a revamped market.
A bid by English Heritage to save the 1960s bus station failed earlier this year.
Blackburn Council had claimed the development could take away vital "footfall" from its businesses.
Blackpool said Tithebarn could be a "major threat" to the resort.
But Mr Pickles said he agreed with the planning inspector that "neither Blackpool nor Blackburn town centre is so weak that it could not cope with some impact".
He said the proposal "would not undermine any existing committed or planned investments, or have any significant adverse impact on the vitality, viability or turnover" of other towns.
Councillor Ken Hudson, leader of Preston City Council, said the council was delighted at the decision.
"The minister has clearly seen sense and on balance agreed that the development is in the best interests of Preston, Lancashire and the North West as a whole," he added.
"We all recognise that there is a lot of hard work ahead but getting planning permission is a huge boost for Tithebarn and a huge boost for Preston," said Mr Hudson.