Manston Airport buyer 'may have been found'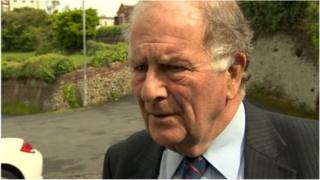 An MP has said Manston Airport may have found a buyer after fears it would have to close.
Speaking at a public meeting on Saturday, Sir Roger Gale MP, who represents North Thanet, said he had been in discussions with a bidder.
In March, Manston Airport said it was in talks about closing amid claims it was losing £10,000 a day.
Campaigners fighting to keep the airport open say they have received more than 15,000 signatures of support.
Hundreds of people attended the meeting, in Winter Gardens, Margate.
During it, Sir Roger said: "Half an hour ago, I held in my hand a letter from a significant potential investor, who I am satisfied - and I may be naive - has the money to make the bid."
'Real prospect'
Several airlines have pulled out of the airport and taken their business elsewhere, including airline KLM, which ran two daily flights to Amsterdam.
Newmarket Holidays, which offers flights to Verona and Naples in Italy, said it would move its Kent departures from Manston to Lydd Airport from June.
And Flybe pulled out in November 2011.
Speaking after the meeting, Sir Roger said: "I don't want to raise false hopes but I think there's a real prospect, that if Ann Gloag [the airport's owner] is willing to sell at a fair price, then a fair price can be found and paid."