Heads of Kent failing schools 'to be put on gardening leave'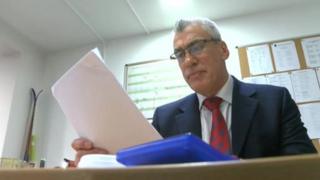 Head teachers of schools that are put in special measures should be put on gardening leave, a leaked Kent County Council (KCC) document has said.
It says if a school fails its Ofsted report and the head has been in place for at least two years, they will go on immediate leave in most cases.
The authority will then ensure "suitable leadership" is put in place.
The council said the document, sent to schools across the county, was written at the request of head teachers.
The document, seen by the BBC, says: "If a school is deemed to require Special Measures, Ofsted is clearly stating that neither the leadership nor the governance has the ability to turn the school around.
"We would therefore expect to act quickly to ensure the school has good leadership and governance.
"Where a head has been in place for at least two years we would expect to take significant action," it continues.
"In most cases, with the head teacher's agreement, they will be placed on gardening leave whilst discussions take place with the union.
"If a head does not wish this option then we go immediately to the formal target setting process."
'Culture of intimidation'
Stuart Pywell, head teacher at the successful St Stephen's Junior School, claimed he was undermined when drafted in to turn around a failing school.
"I think within KCC there's a culture of intimidation," he said.
"Sadly, it's this culture that permeates through all aspects of the school infrastructure from the director of education downwards."
A KCC spokesman said the paper is a draft document for discussion with head teachers and has not been published.
"This document is supported by a more comprehensive School Improvement Strategy which sets out a wide range of support and development for school leaders," he said.
"We work closely in partnership with schools that are judged to be inadequate and those that most require improvement.
"On occasions this requires a change of leadership and as part of government policy it is usual to move to a sponsored academy arrangement."
Patrick Leeson, KCC's director of education, added: "I would say that we are not bullying head teachers but we are being robust about this critical issue.
"You don't get good schools without good leaders."