Medway Maritime Hospital formally warned by CQC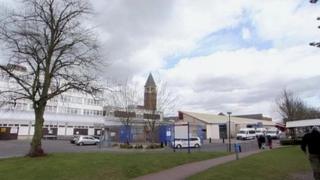 Bloodstained walls and people waiting on trolleys for hours have been discovered at a hospital whose trust is already in special measures.
The Care Quality Commission (CQC) has issued a formal warning to Medway NHS Foundation Trust after an A&E inspection at Medway Maritime Hospital.
The unannounced inspection was in response to "anonymous concerns" raised directly with the regulator.
The hospital, in Gillingham, Kent, apologised for "letting patients down".
Medway NHS Foundation Trust was forced last month to appoint a new interim chief executive and chairman by the health regulator Monitor.
'Under siege'
A report in December by health firm Dr Foster said the trust had significantly higher than expected death rates, while in October the CQC issued three formal warnings over poor maternity care.
In the latest CQC review, inspectors said patients arriving by ambulance were the worst affected, with not enough cubicles and trolley bays in A&E to provide assessment.
"On our arrival in the department there were 20 patients who had been in there for more than four hours, waiting to be seen by doctors," the report said.
"Seven of these had been in the unit for over 11 hours and one patient had been there in excess of 19 hours."
Inspectors said the emergency department was "effectively in a crisis situation", with more than one staff member saying A&E was "under siege".
Steve Hams, chief nurse at Medway Maritime, said: "We are sorry that the emergency department failed to live up to the high standards of care we want to provide for our patients and which they have a right to expect."
However, he said the A&E department was treating about 90,000 people each year, despite being designed to see 50,000 patients.
Sharon Ward, from Allhallows in Kent, said her 78-year-old mother had to wait for seven hours on a trolley at the A&E unit after she broke her wrist.
"If I wasn't with her in A&E she would just have been left on the trolley with no drink. No-one came to her and it wasn't very clean.
"On the bottom of the trolley, you could see there was blood and there was stuff on the floor."
She said the A&E department was currently "not good" and if her mother needed treatment again she would consider going to another hospital.