Tunbridge Wells Hospital told 'improvement needed'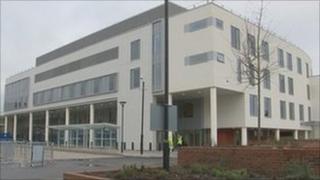 A Kent hospital has been told it is not managing the storage of medicines safely in its out-of-hours services.
The Tunbridge Wells Hospital in Pembury also did not have enough qualified, skilled and experienced staff, the Care Quality Commission (CQC) found.
An inspection was carried out following concerns from patients and the public, the CQC said.
Other patients told the inspectors their care was "very good" and "everyone here is lovely and kind".
The hospital trust said it took the findings "very seriously and has robust plans in place to achieve full compliance".
The CQC inspectors found a medicine trolley left unlocked in a treatment room. In another room medicines had been left on work surfaces.
'Insufficient care'
Staff highlighted concerns about a lack of insufficient room to store controlled drugs and that some epidural controlled drugs were not stored separately from other injectable drugs.
The report said: "We could not be assured the medicines were stored securely and that people were protected from inappropriate access to medicines."
The inspectors said staff shortages were having a "moderate impact" on patients' care and consultants working out-of-hours could be called away to Maidstone Hospital.
When higher dependency patients were on the ward, staff reported: "Sometimes patients did not get all the care they needed."
One nurse said: "[The] care given is the best we can do in the circumstances, but it is insufficient."
'Care not compromised'
The hospital was meeting required standards in the treatment of patients and involving them in their care, the CQC inspectors reported.
A spokesman for the hospital trust said: "As the report states, it had already recruited to the majority of its vacant posts, had seen an 'influx of staff' into A&E, and was in the process of filling its few remaining positions in emergency care.
"Standards of patient care in A&E were not compromised and the trust continued to provide safe care."
He added: "As well as the recommendations for further improvements, there were many positive findings within the report. Many patients told the CQC they were happy with their care.
"The trust will report back to the CQC shortly showing how it is addressing medication management concerns, and continuing to address any outstanding staffing vacancies."