Newts 'prolific' at Kent pipeline site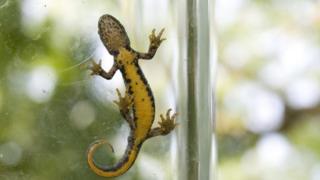 A population of more than 3,500 newts has been found at a water mains construction site in woodland in Kent.
South East Water said the discovery came as a "huge shock" because surveys suggested about 50 were expected.
It said the site was close to the M20 and high speed railway but the newts had populated the area undisturbed.
But the site also included an area of ancient woodland, which the Amphibian and Reptile Conservation Trust (ARC) said provided "an excellent habitat".
The population in Horish Woods near Detling included 148 great crested newts which are protected.
South East Water said the newts were moved out of the narrow working area to keep them safe while work was undertaken, but the population would remain in the local area.