Kent Police crime recording 'significantly improved' following critical report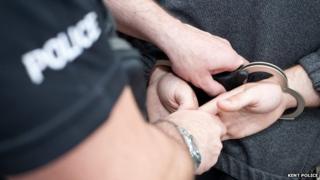 Kent Police has made "significant improvements" to crime recording following a report which found around one in 10 crimes were under-recorded.
In June last year, HM Inspectorate of Constabulary (HMIC) found "an institutional bias towards chasing numerical targets for solving crime".
It found 25% of crimes recorded as "no-crimes" were wrongly classified by the force, among them rapes and robberies.
Kent Police and Crime Commissioner Ann Barnes welcomed the latest findings.
The report also found that crimes were not resolved in accordance with national requirements and guidance, with a small number of cases where cautions had been issued for serious crimes.
The inspectorate also found cases where penalty notices had been inappropriately issued to people with significant offending histories.
The report followed the arrest of five officers in 2012 over claims of irregularities in the way prisoners were dealt with.
Four of the officers are currently suspended from duty, while one is on restricted duties.
A revisit by HMIC found Kent Police had taken steps to improve.
'Bad old days'
Inspectors found substantially greater accuracy in crime recording, although HMIC found more needed to be done on training and raising awareness of the force's new approach.
The interim report said the focus for the force "must now be on ensuring the progress is sustained".
Zoe Billingham, HM Inspector of Constabulary for the eastern region, said: "Kent Police has responded positively to the concerns raised in our inspection last year and is making progress against the plan they have developed in response.
"Our revisit found that the force has made significant improvements.
"However, changes to culture take time to implement and it remains too early to say whether the improvements can be sustained long-term.
"HMIC will return to the force in 2014 as part of our wider crime data integrity inspection, to assess whether the people of Kent can have lasting confidence in the force's crime figures."
Kent police and crime commissioner, Ann Barnes commissioned HMIC last year to conduct an inspection over the force's crime figures.
She said the force's crime recording culture must not "slip back to the bad old days".
"I am now confident that the people of Kent can have trust in their crime figures," she said.
"Kent Police must now sustain this high level of accuracy and I expect the new chief constable to make this his constant focus now and in the future.
"It is imperative that the force's culture on crime recording does not slip back to the bad old days."
She said Kent was the first force to be independently inspected and that it was now time for all police forces in the country to "take an independent look at their own crime figures".